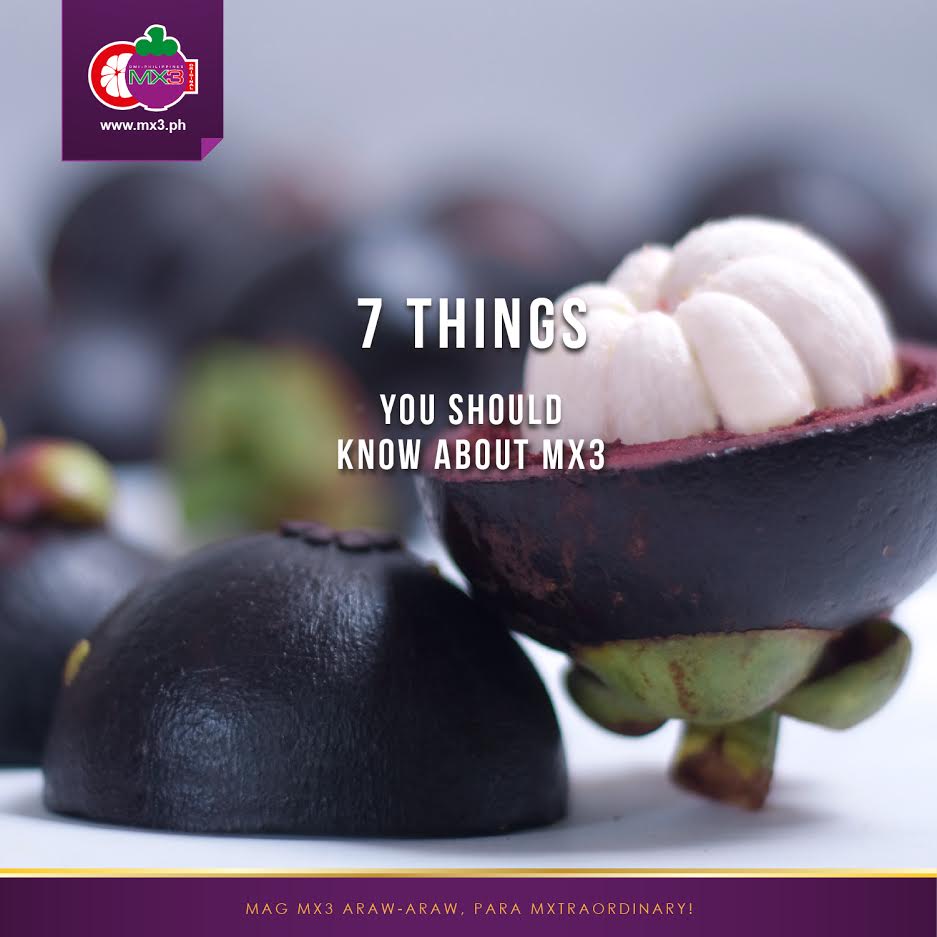 People nowadays have lots of things to choose from, starting from basic commodities and among many other things that match one's lifestyle. Even with the purchase of food supplements, many brands are clamoring for attention from the consumers and will do anything to have that piece of pie in the market. With many marketing schemes offered to consumers, many are led to fake ones. Not everything we buy is authentic and real. Now, are you sure if your food supplement is what you deemed authentic and real?
A Food supplement is a preparation intended to supply a nutrient that is missing from a diet. Same goes with MX3, that has XANTHONE, an antioxidant property extracted from the pericarp of Garcinia Mangostana. It contains Alpha, Beta and Gamma Mangostana. It helps address human body's need for optimal nutrition to fight free radicals that damage healthy cells. It also helps boost body's immune system to have a strong defense from illnesses.
Are you sure of your Food Supplement's Product Quality?
MX3 Food supplements will not become a leader in the market today if not for its Product Quality Excellence. MX3 is a proudly Philippine-made product, manufactured in an ISO Certified Northfield Laboratory in Bulacan, and with the State of the Art facilities, consumers can be assured that MX3 Food supplements are done professionally and with excellence.
Are you sure of your Food Supplement is FDA approved?
The role of FDA is to regulate the registration of Health Products in the Philippines, that is deemed to be Safe, Effective and of Good Quality. MX3 is among many of the Food Supplement Category that FDA approves by providing a valid Certificate of Product Registration. So always check the label of the item that you purchase and all MX3 product variants are also listed on the website of FDA.
Are you sure that your Food Supplement passed the Microbial Test and is Negative for E.Coli and Salmonella?
Not knowing where the source of the purchase made can pose a health risk. E. Coli and Salmonella are the reasons for food poisoning. When left untreated, the patient will suffer some intestinal infections including diarrhea, abdominal pain, and fever. But with MX3, one can be sure of its product quality as it is manufactured in a State-of-the-Art facility. Ensuring the buying consumers that the MX3 products are safe, clean and free from contamination.
Are you sure that your food supplement has the correct weight stated on their label?
Every buying consumers exactly know the true value that they are getting. After all, it's their money and it's never wrong to budget wisely. With MX3, they get their money's worth because they get to enjoy the maximum health benefits in every MX3 product sachet or MX3 capsule variants. Better to invest for your health with MX3!
Are you sure that your food supplement is easily digested into your system?
Every food supplement product needs to be tested to ensure the efficacy of the product, making it sure that it is safe for human consumption. MX3 takes pride in their products especially with its capsule formulation after that Dissolution test procedure. In less than 7 minutes, the gel capsule and the powder in it dissolve that quickly. Just imagine how fast the health benefits one gets from MX3 as it is quickly absorbed into your bloodstream.
Are you sure that your food supplement is HALAL certified?
When you say a product is "HALAL Certified", it is a guarantee that products and services aimed at the Muslim population meet the requirements of Islamic law and is suitable for consumption for Muslim majority and other countries that are in the Islamic faith. In respect to the people who are Muslim in Faith, all product variants of MX3 is Halal certified and it is visibly marked on every MX3 product labels. Even in the MX3 capsule variants, it is safe for consumption for our fellow Muslim brothers and sisters since it is a vegetable-based gel capsule.
Are you sure that your food supplement has undergone various clinical studies and recognized for the independent researchers, local and abroad?
One branch of healthcare science in Clinical research. The purpose is to determine the safety and efficacy of medications, devices, diagnostic products and treatment regimens intended for human use. It may be used for prevention, treatment, diagnosis or for relieving symptoms of a disease. Of course, MX3 remarkably proved its point in addressing the pain discomfort relating to joint inflammation through independent clinical studies by Nutrasouce Canada and Journal of Aging Research and Clinical Practice (JARCP).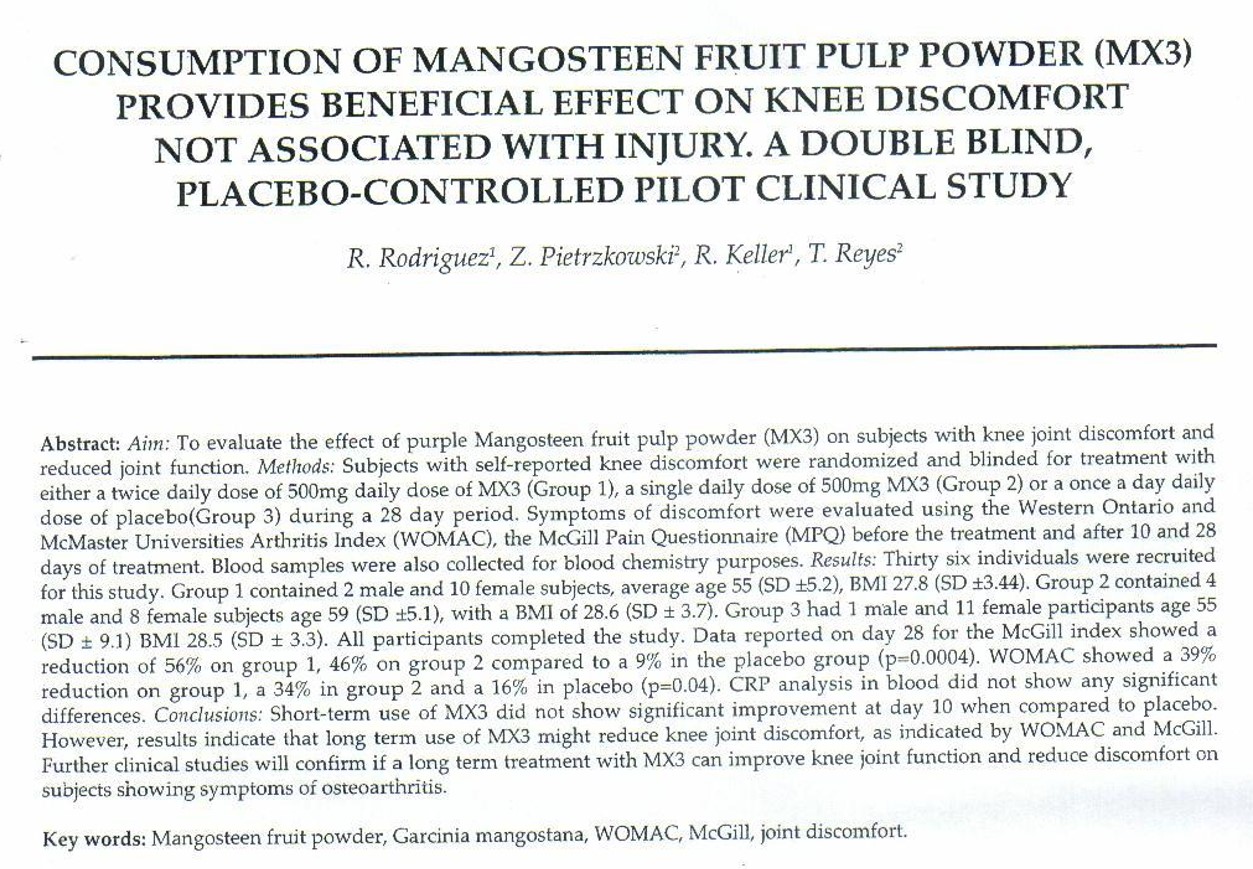 With countless blessings and accolades received locally and internationally, many have benefitted from the XANTHONE~Alpha, Beta and Gamma Mangostana contained in every MX3 products.
After all, life is meant to be lived well and what is the better option? Have your daily dose of MX3. This is the sure way of enjoying life to its fullest!