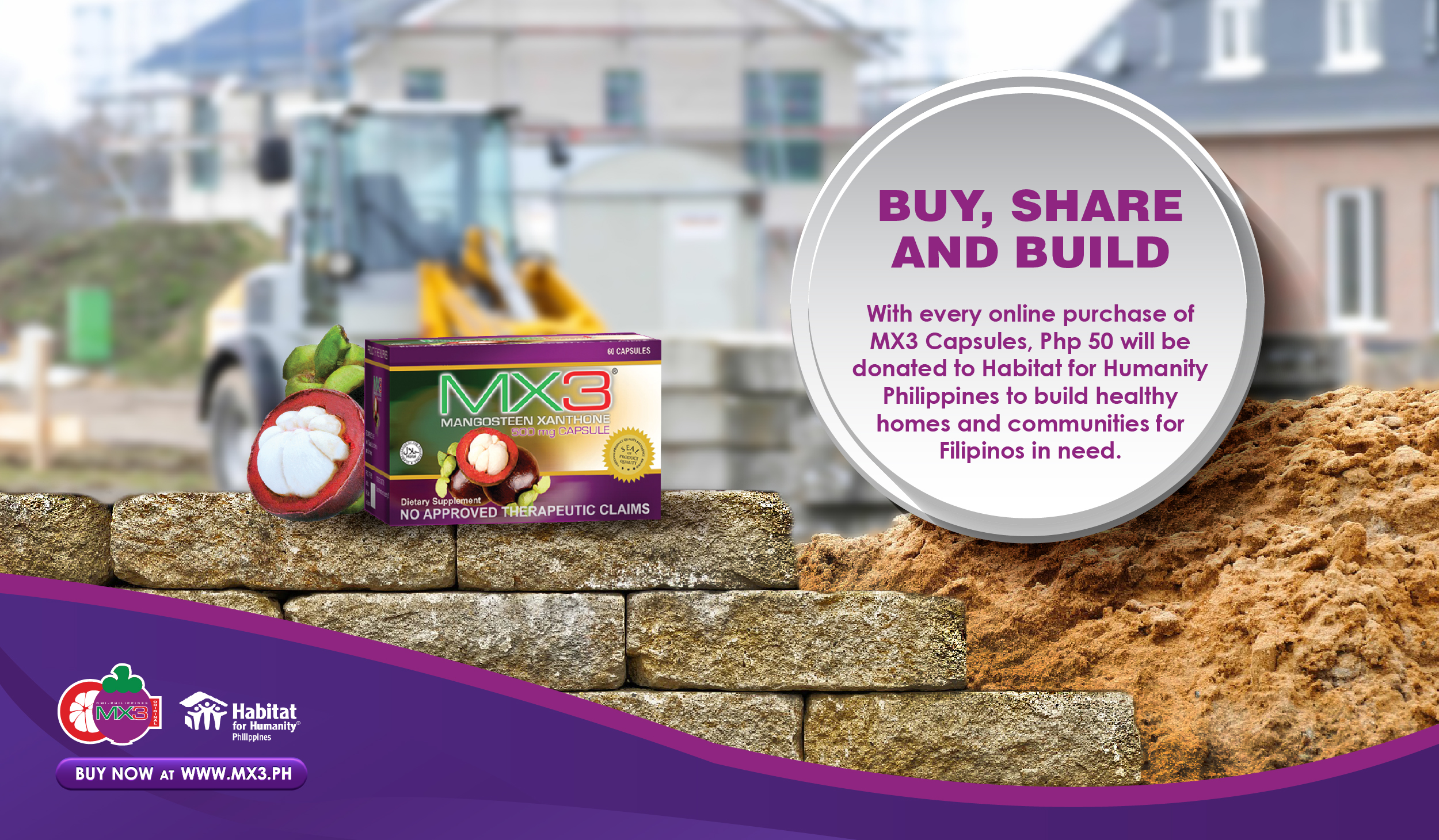 The Bible, 1 Corinthians 6:19 in particular, says in essence that our body is the temple of God (Holy Spirit). A common interpretation of it is that God resides in all of us. And this goes to physical and spiritual realms, to mean that we must all keep our body or ourselves healthy, respectable and decent. All of us. No exceptions. We are all vessels or homes of the Lord Almighty.

MX3 has recently partnered with the Habitat for Humanity Philippines in seeking this God's love into action. Both institutions believe that if our body is the residence of God, then man's residence must be a good, healthy, spiritual vessel as well. Both are steadfast in the pursuit of the advocacy that everyone deserves a good and decent place to live.

And to put this age of digital technology to better use, MX3 has made everyone who buys MX3 capsules on-line a part of this goodwill of helping without any additional effort. MX3 commits that for every MX3 Capsules purchase online, PhP50 of it will be donated to the Habitat for Humanity Philippines to enable their core mission of building decent houses for our kababayans who have been dreaming of it but have no good means of building one for themselves.

A decent place to live encourages a life that is also decent, which leads to good, healthy, and respectable living as well. This is part of the Great Commission of Jesus, which is the tenet of spreading Jesus' love for mankind through ministry, missionary work, and evangelism. MX3, from its inception, is a staunch supporter of putting this to action through multi-media platforms.

Paraphrasing a great song – imagine all the people living life in peace and decency. This dream is a reality in progress. And there is no better feeling than having the satisfaction that we are all part of making it happen relentlessly. Be MXtraordinary.

To God be the glory!