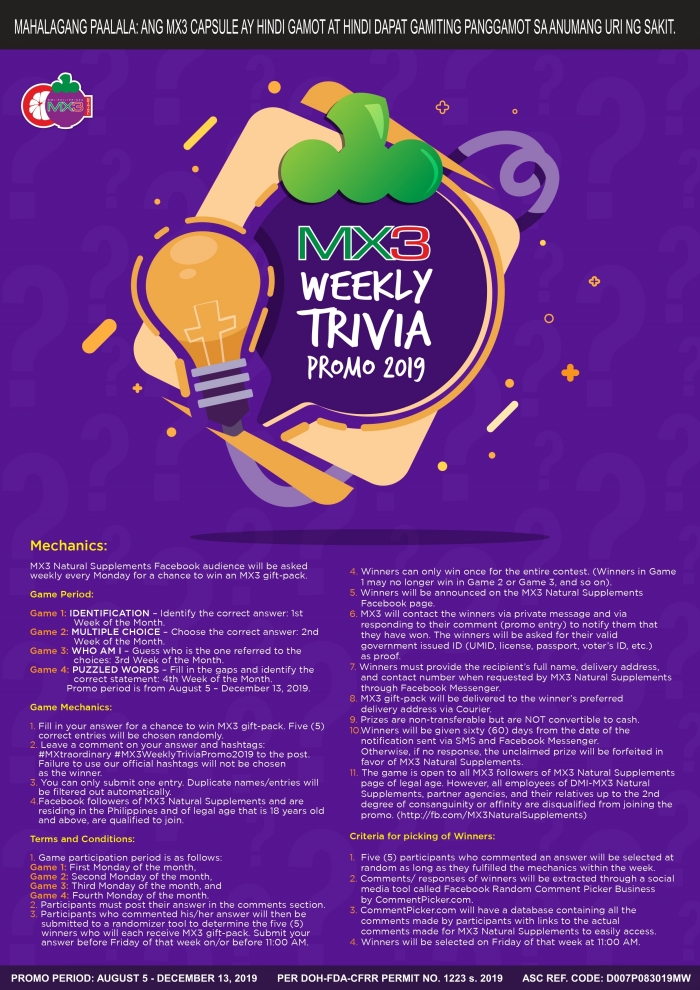 MX3 Natural Supplements Facebook audience will be asked weekly every Monday for a chance to win an MX3 gift-pack.

Game Period:
Game 1: IDENTIFICATION – Identify the correct answer: 1st Week of the Month.
Game 2: MULTIPLE CHOICE – Choose the correct answer: 2nd Week of the Month.
Game 3: WHO AM I – Guess who is the one referred to the choices: 3rd Week of the Month.
Game 4: PUZZLED WORDS – Fill in the gaps and identify the correct statement: 4th Week of the Month.
Promo period is from August 5 – December 13, 2019.

Game Mechanics:
Fill in your answer for a chance to win MX3 gift-pack. Five (5) correct entries will be chosen randomly.
Leave a comment with your answer and hashtags: #MXtraordinary #MX3WeeklyTriviaPromo2019 to the post. Failure to use our official hashtags will not be chosen as the winner.
You can only submit one entry. Duplicate names/entries will be filtered out automatically.
Facebook followers of MX3 Natural Supplements and are residing in the Philippines and of legal age that is 18 years old and above, are qualified to join.

Terms and Conditions:
Game participation period is as follows: Game 1: First Monday of the month, Game 2: Second Monday of the month, Game 3: Third Monday of the month, and Game 4: Fourth Monday of the month.
Participants must post their answer in the comments section.
Participants who commented his/her answer will then be submitted to a randomizer tool to determine the five (5) winners who will each receive MX3 gift-pack. Submit your answer before Friday of that week on / or before 11:00 AM.
Winners can only win once for the entire contest. (Winners in Game 1 may no longer win in Game 2 or Game 3, and so on).
Winners will be announced on the MX3 Natural Supplements Facebook page.
MX3 will contact the winners via private message and via responding to their comment (promo entry) to notify them that they have won. The winners will be asked for their valid government-issued ID (UMID, license, passport, voter's ID, etc.) as proof.
Winners must provide the recipient's full name, delivery address, and contact number when requested by MX3 Natural Supplements through Facebook Messenger.
MX3 gift-pack will be delivered to the winner's preferred delivery address via Courier.
Prizes are non-transferable but are NOT convertible to cash.
Winners will be given sixty (60) days from the date of the notification sent via SMS and Facebook Messenger. Otherwise, if no response, the unclaimed prize will be forfeited in favor of MX3 Natural Supplements.
The game is open to all MX3 followers of MX3 Natural Supplements page of legal age. However, all employees of DMI-MX3 Natural Supplements, partner agencies, and their relatives up to the 2nd degree of consanguinity or affinity are disqualified from joining the promo. (http://fb.com/MX3NaturalSupplements)

Criteria for picking of Winners:
Five (5) participants who commented an answer will be selected at random as long as they fulfilled the mechanics within the week.
Comments/ responses of winners will be extracted through a social media tool called Facebook Random Comment Picker Business by CommentPicker.com.
CommentPicker.com will have a database containing all the comments made by participants with links to the actual comments made for MX3 Natural Supplements to easily access.
Winners will be selected on Friday of that week at 11:00 AM.

Per DOH-FDA-CFRR Permit No. 1223 s. 2019
ASC REF. CODE: D007P0830MW