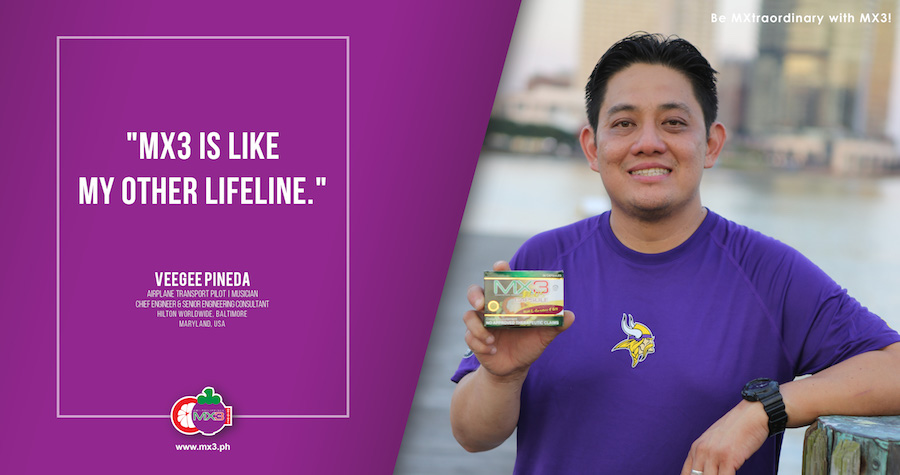 My dream of becoming a pilot came true in 1996. I flew for two years in and earned 500 flying hours in the Philippines, earning a commercial pilot status. But my life shifted the other way. From flying, I literally had to fly out of the country and lived with my family in the U.S. Now, I oversee the building conditions of the Hilton properties here in Baltimore, Maryland.
Here, soaring high means making sure that all our guests at the Hilton are enjoying their stay, glitch-free. My team and I ensure that everything is intact and in good working condition – from the heating and cooling conditioning to the structural soundness of the building other facilities.
Stress took a toll on me a couple of months ago. I suffered from a congestive heart failure. My face and feet got swollen and had difficulty breathing. I could not sleep well and my strength, waning.
When I saw MX3 over a popular Filipino cable channel, I researched on it and eventually tried it. Now, with proper diet, I could breathe a little bit better. I could sleep soundly and early, too.
A big part of my passion for over 20 years is composing songs for our Christian community. It helps me recover from stress. Music is one lifeline I need so I can live longer for my two kids. I need to see and make sure that they succeed in life.
MX3 is like my other lifeline. Like music, it helps me be at peace. I feel energized with it. And who knows, one day I could have the added energy to fly again. That's why I need to be MXtraordinary with MX3.
VEEGEE PINEDA
Airplane Transport Pilot | Musician |
Chief Engineer & Senior Engineering Consultant
Hilton Worldwide, Baltimore, Maryland, USA