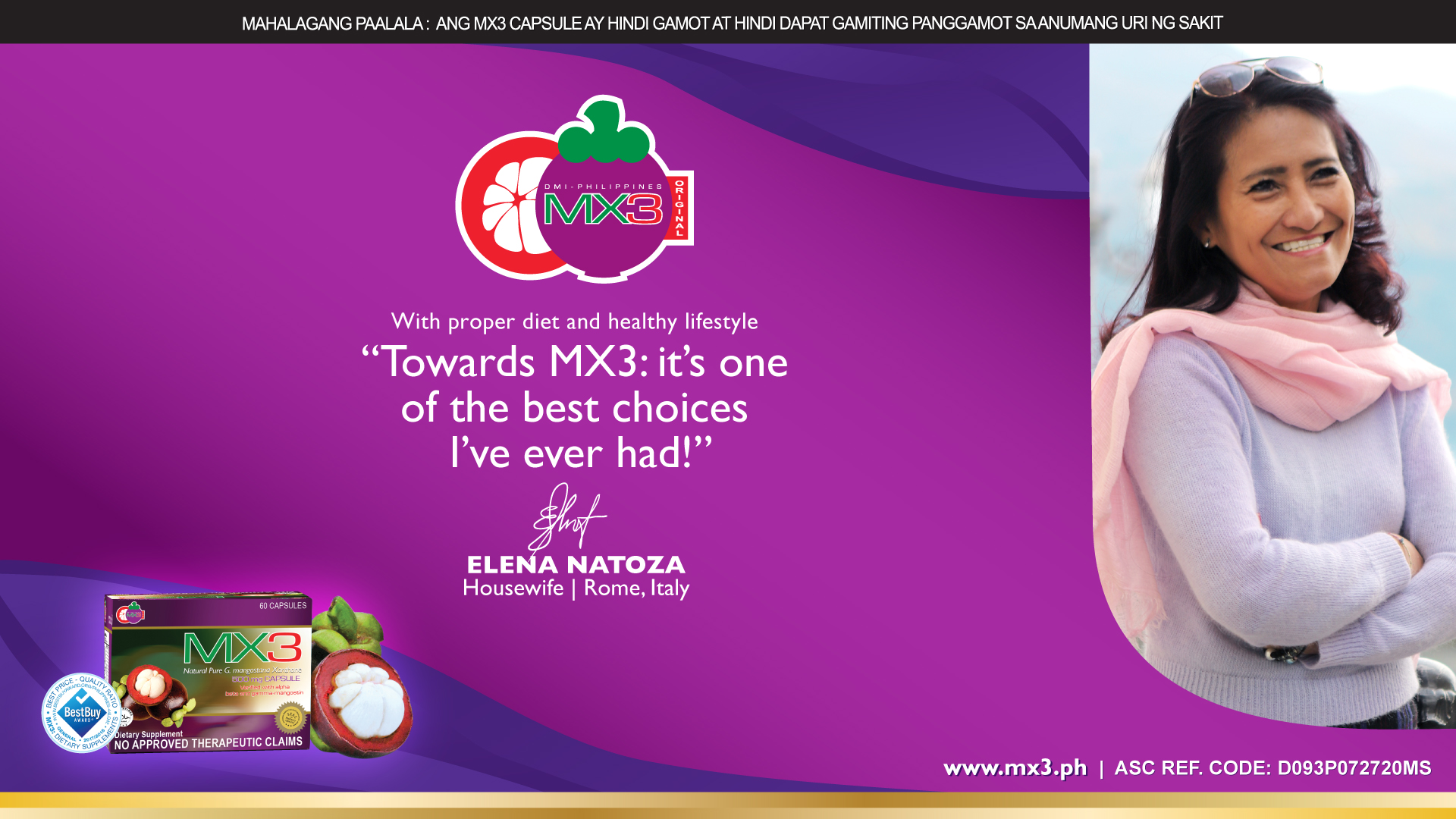 When I was still a student, all I wished for was to own a house, a car, and a family. I didn't expect the last one happening earlier than planned. Being a mother while still in school was a challenge, but I went on to finish my studies.
After graduating, my parents invited me to come to Rome, Italy, where they were living at that time. It was hard because I had to leave my children. My marriage with my then-husband lead to annulment, and that part became easier to overcome. With a heavy heart, I made a choice to leave for my children's future.
Babysitting was my first job in Rome. For 16 years, I was lucky enough to serve an Italian family that treated me as one of them. Although even if I felt so at home, my loneliness kept creeping in as I babysit because they remind me of my own children.
My sister knew about my solitude so she invited me to join their bowling community. That's where I met my second husband, whom I had a son with. We started to live together, and offered to take my first two children to Rome. My happiness was on a different level. But the bliss went off when my husband was diagnosed with leukemia and he didn't live long.
With my two children migrating for Canada, I was left alone with my youngest son. I became a full-time mother while taking part-time jobs for a living. From then on, I knew I had to withstand everything by myself, and that's when I met MX3 Capsule. My friends brought me some because they were aware about my routine, and thought MX3 was the perfect choice to complement my diet and regular exercise.
Reminiscing my life, I feel like I made the right choice, now that I see my children being successful. Towards MX3, I feel the same: it's one of the best choices I've ever had!
Elena Natoza
Housewife
Rome, Italy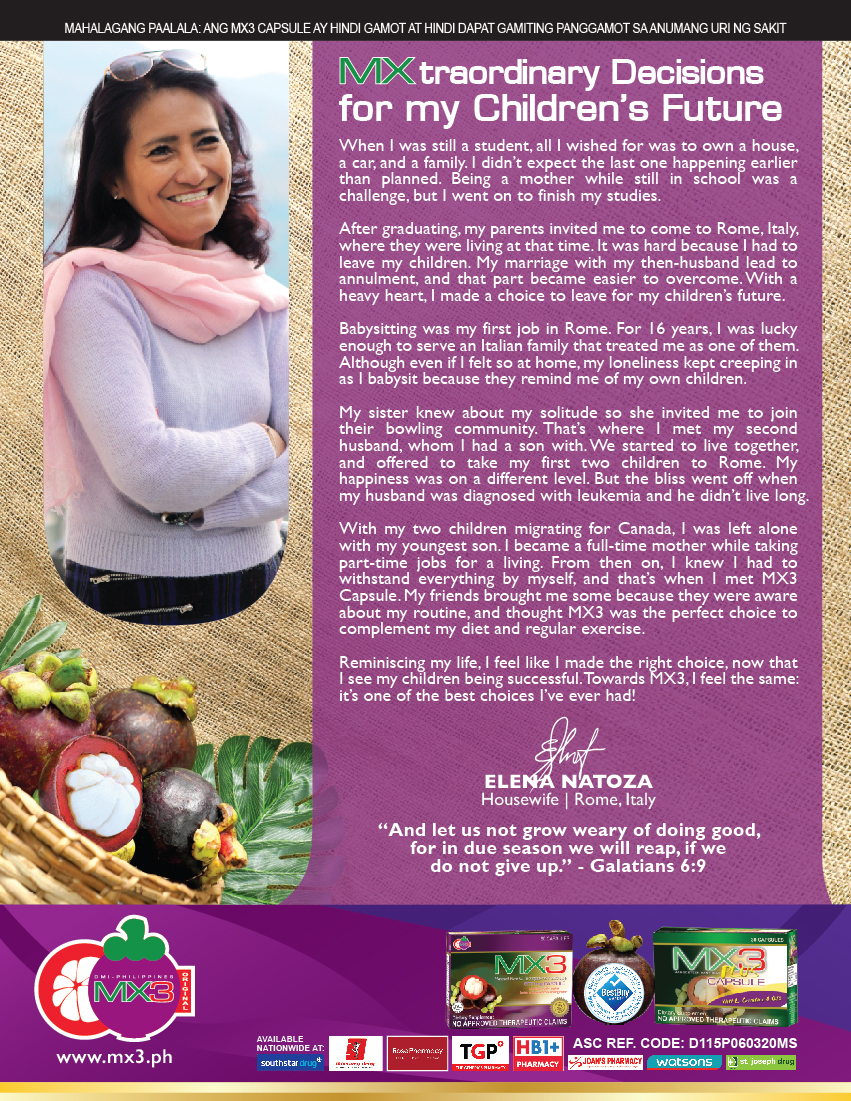 Featured Product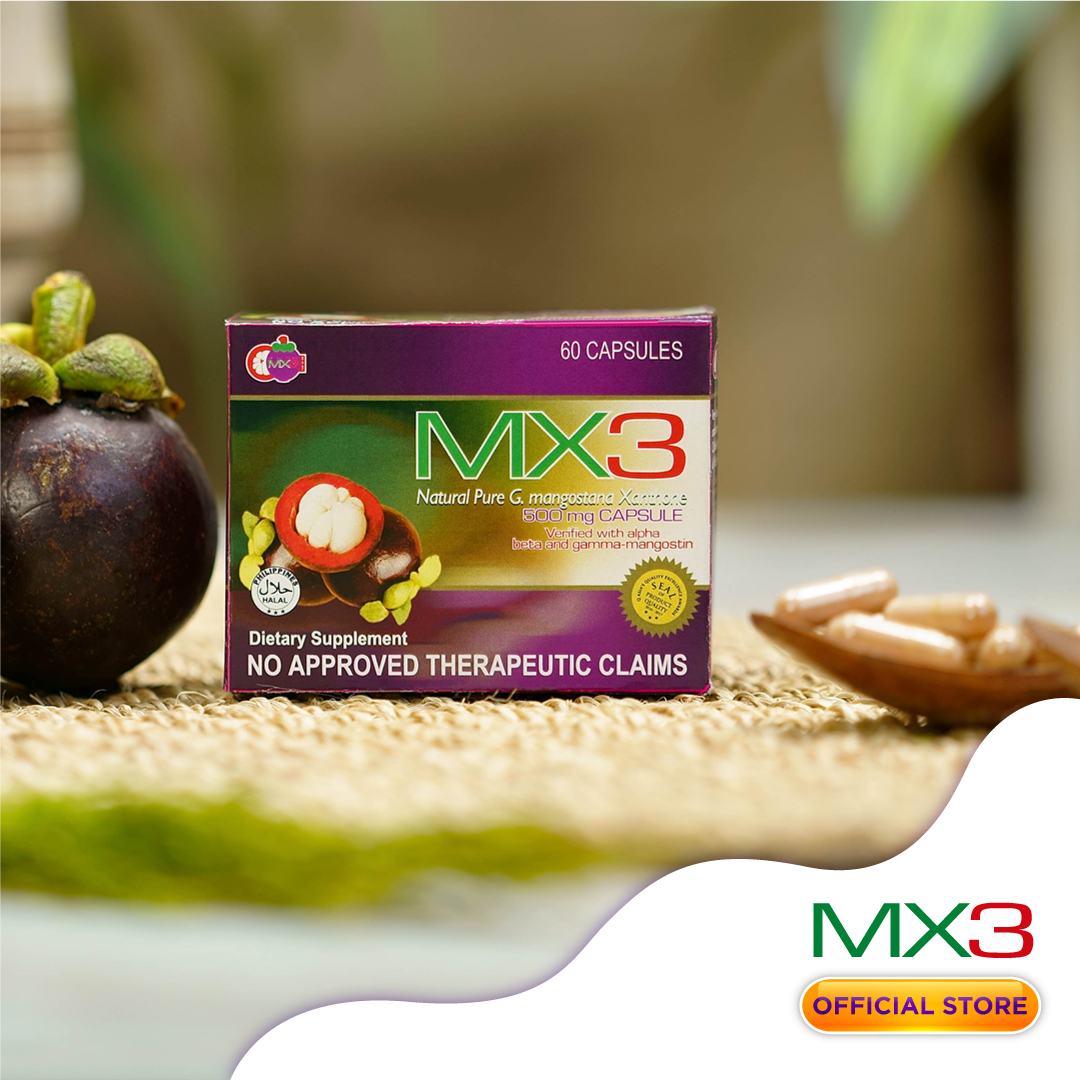 MX3 Natural Pure G. Mangostana Capsule or commonly known as MX3 Capsule is a natural food supplement that is rich in xanthone- a natural chemical extracted from the pericarp of mangosteen fruit (Garcinia Mangostana L.) and has powerful antioxidant and anti-inflammatory properties that help boost the immune system.

Xanthones have three derivatives, which are alpha, beta, and gamma mangostin, which are all found in MX3.
Alpha-Mangostin - Exhibits antioxidant, antimicrobial, and antitumor activities.
Beta-Mangostin - improves mood and relieves stress
Gamma-Mangostin - Has the most powerful antioxidant property. It can reduce swelling and help relieve pain. It can also help prevent the obstruction and the clogging of arteries that lead to heart diseases and can benefit in lowering LDL (bad cholesterol).

Visit our official store.