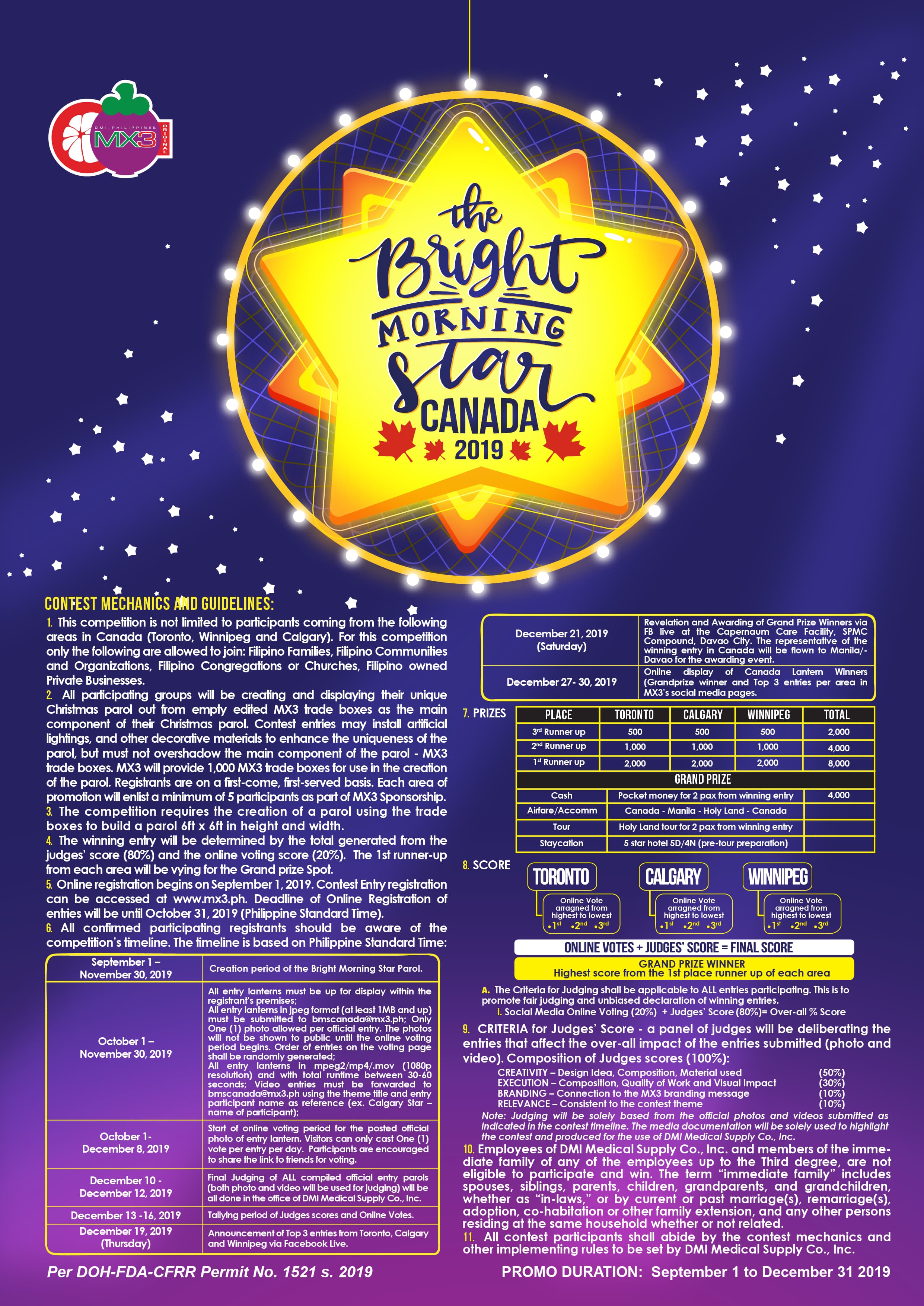 Contest Mechanics and Guidelines:
This competition is not limited to participants coming from the following areas in Canada (Toronto, Winnipeg, and Calgary). For this competition, only the following are allowed to join: Filipino Families, Filipino Communities and Organizations, Filipino Congregations or Churches, Filipino owned Private Businesses.
All participating groups will be creating and displaying their unique Christmas parol out from empty edited MX3 trade boxes as the main component of their Christmas parol. Contest entries may install artificial lightings, and other decorative materials to enhance the uniqueness of the parol, but must not overshadow the main component of the parol - MX3 trade boxes. MX3 will provide 1,000 MX3 trade boxes for use in the creation of the parol. Registrants are on a first-come, first-served basis. Each area of the promotion will enlist a minimum of 5 participants as part of MX3 Sponsorship.
The competition requires the creation of a parol using the trade boxes to build a parol 6ft x 6ft in height and width.
The winning entry will be determined by the total generated from the judges' score (80%) and the online voting score (20%). The 1st runner-up from each area will be vying for the Grand prize Spot.
Online registration begins on September 1, 2019.
All confirmed participating registrants should be aware of the competition's timeline. The timeline is based on Philippine Standard Time:
<table width="100% !important""100% !important">
September 1 – November 30, 2019
Creation period of the Bright Morning Star Parol.
October 1 – November 30, 2019
All entry lanterns must be up for display within the registrant's premises;
All entry lanterns in jpeg format (at least 1MB and up) must be submitted to the following emails respectively:

Toronto- bmstoronto@mx3.ph
Calgary- bmscalgary@mx3.ph
Winnipeg- bmswinnipeg@mx3.ph


Only One (1) photo allowed per official entry. The photos will not be shown to the public until the online voting period begins. Order of entries on the voting page shall be randomly generated;
All entry lanterns in mpeg2/mp4/.mov (1080p resolution) and with total runtime between 30-60 seconds; Video entries must be forwarded to the following emails respectively:

Toronto- bmstoronto@mx3.ph
Calgary- bmscalgary@mx3.ph
Winnipeg- bmswinnipeg@mx3.ph

using the theme title and entry participant name as a reference (ex. Calgary Star – the name of participant);
October 1-December 8, 2019
Start of the online voting period for the posted official photo of entry lantern. Visitors can only cast one (1) vote per entry per day. Participants are encouraged to share the link to friends for voting.
December 10-December 12, 2019
Final Judging of ALL compiled official entry parols (both photo and video will be used for judging) will be all done in the office of DMI Medical Supply Co., Inc.
December 13-16, 2019
Tallying period of Judges scores and Online Votes.
December 19, 2019 (Thursday)
Announcement of Top 3 entries from Toronto, Calgary, and Winnipeg via Facebook Live.
December 21, 2019 (Saturday)
Revelation and Awarding of Grand Prize Winners via FB live at the Capernaum Care Facility, SPMC Compound, Davao City. The representative of the winning entry in Canada will be flown to Manila/Davao for the awarding event.
December 27-30, 2019
Online display of Canada Lantern Winners (Grand prize winner and Top 3 entries per area in MX3's social media pages.
PRIZE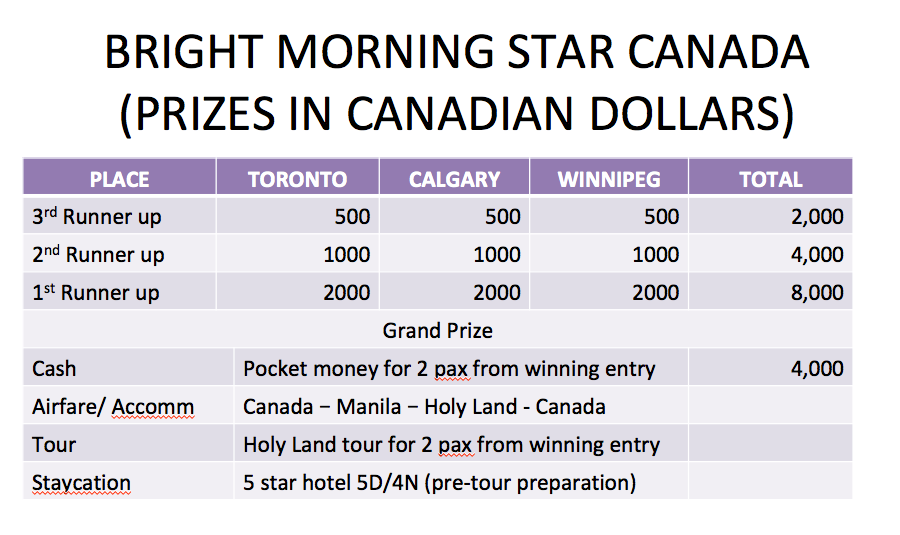 SCORE

The Criteria for Judging shall be applicable to ALL entries participating. This is to promote fair judging and unbiased declaration of winning entries.

Social Media Online Voting (20%) + Judges' Score (80%)= Over-all % Score

CRITERIA for Judges' Score - a panel of judges will be deliberating the entries that affect the overall impact of the entries submitted (photo and video). Composition of Judges scores (100%) are the following:
CREATIVITY – Design Idea, Composition, Material used ?50%)
EXECUTION – Composition, Quality of Work and Visual Impact (30%)
BRANDING – Connection to the MX3 branding message ?10%)
RELEVANCE – Appropriateness to the theme and message ?10%)
Note: Judging will be solely based on the official photos and videos submitted as indicated in the contest timeline. The media documentation will be solely used to highlight the contest and produced for the use of DMI Medical Supply Co., Inc.
Employees and officers of DMI Medical Supply Co., Inc., and members of the immediate family of any of the employees up to the Third degree, are not eligible to participate and win. The term "immediate family" includes spouses, siblings, parents, children, grandparents, and grandchildren, whether as "in-laws," or by current or past marriage(s), remarriage(s), adoption, co-habitation or other family extension, and any other persons residing at the same household whether or not related.
All contest participants shall abide by the contest mechanics and other implementing rules to be set by DMI Medical Supply Co., Inc.