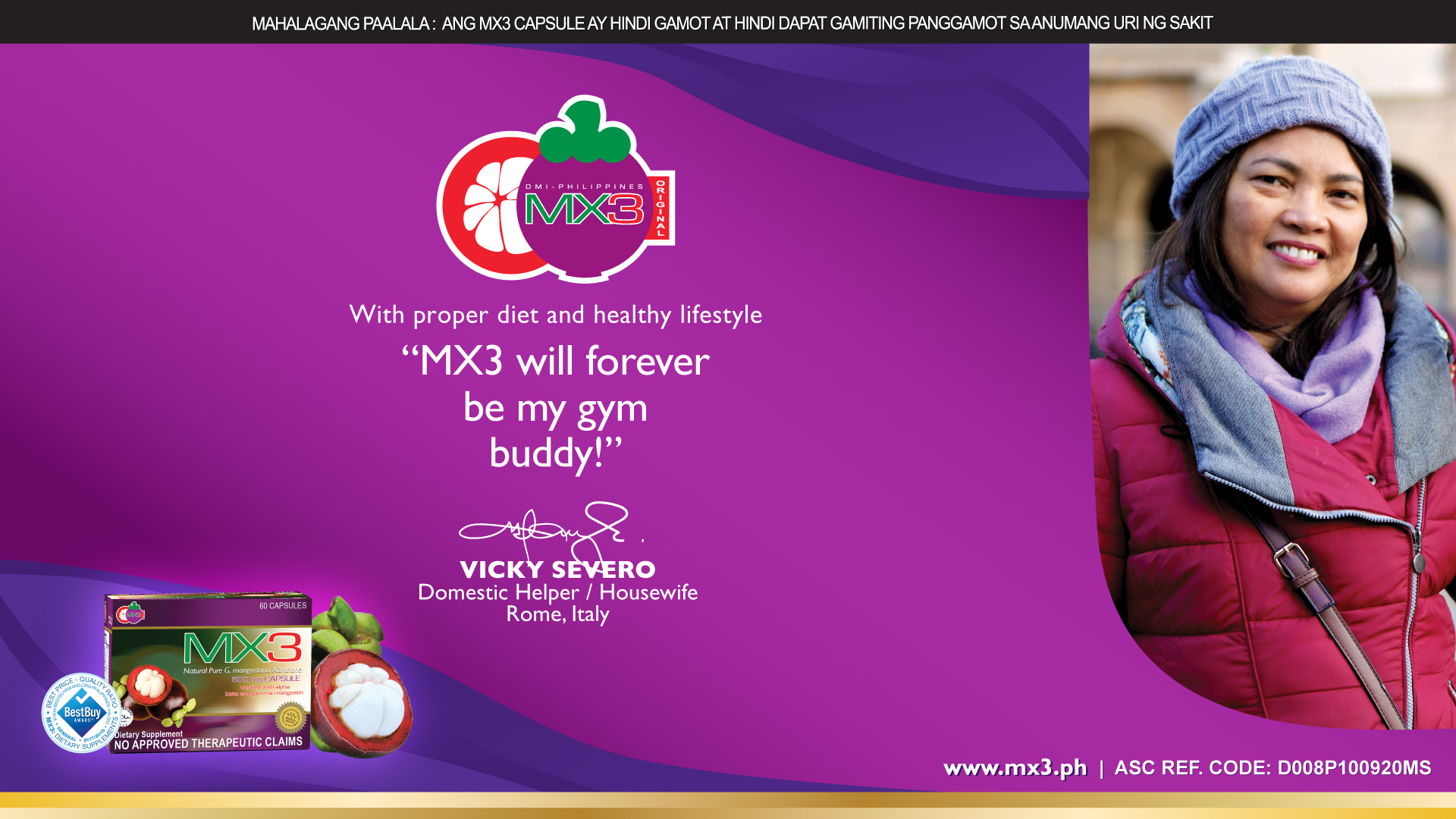 Back in the Philippines, I got into different jobs just to support my family. I had two children with my first spouse, whom I eventually split up. In 1987, my sister asked me to come to Rome and find a better opportunity in life.
I was wrong when I thought it's going to be easy. While in Rome, I kept worrying about the children I left behind, and my father died without me by his side. The pain was inviting me to come home, but I decided to stay for my children's future.
God ultimately rewarded my perseverance through the people I worked for. As a domestic helper, I didn't experience discrimination from my employers. They treated me as one of their family members, and for someone who's away from her family, it was something I needed to survive.
I served three families. From 9 AM to 9 PM, I was on my feet babysitting the elders, children, and doing household chores for families. Although the weariness was evident, complaining about it was not my thing. My children inspired me to keep my head up.
In 1992, I met my second husband whom I had two kids with. When my mother died and my two children in the Philippines finally migrated to Rome, my husband asked me to stop working. However, my body got used to my routine, so I insisted on taking part-time jobs.
Five years ago, I felt my body was starting to give up on me. Rome's weather had been slowly becoming too extreme for my joints, and I could feel my age holding me back to perform physical efforts. That's when I knew I needed help.
A Filipino community introduced me to MX3 Capsule. It complemented my gym exercise and healthy diet with very low sodium content, cholesterol, and fat-free. I've never stopped taking MX3 Capsule since then. For me, MX3 will forever be my gym buddy!

Vicky Severo
Domestic Helper / Housewife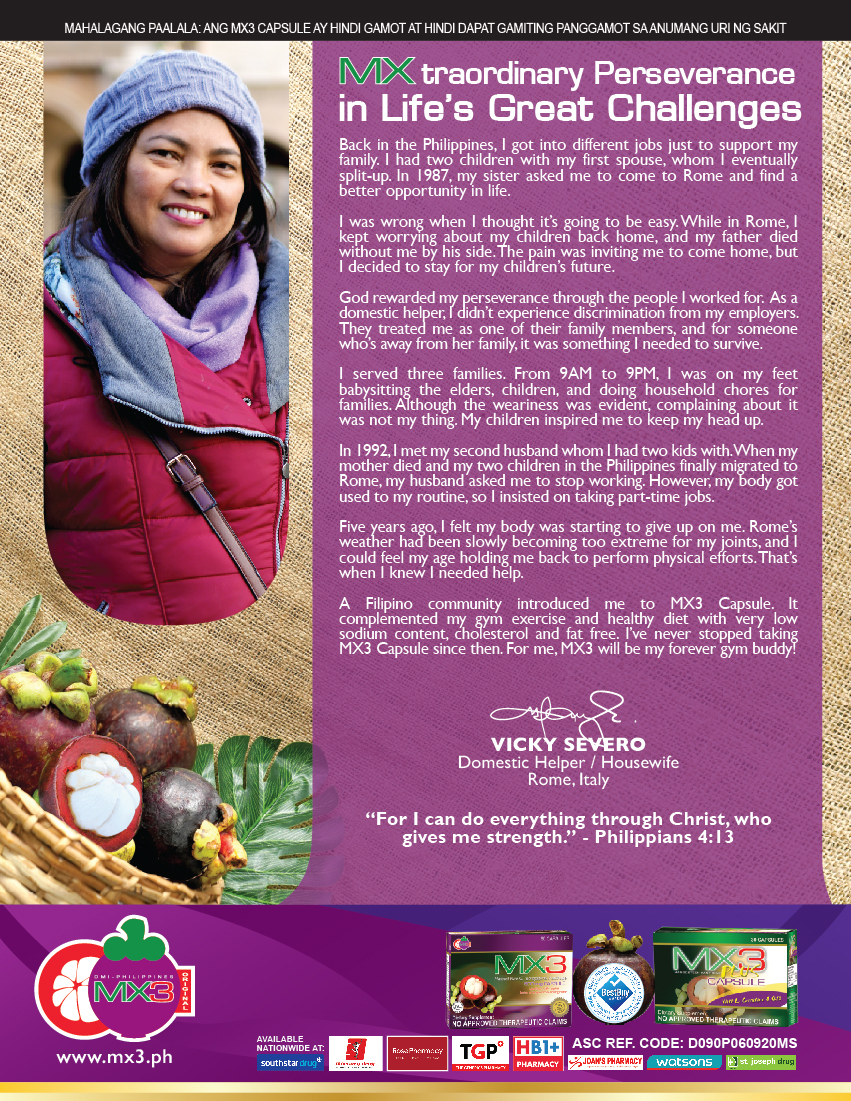 Featured Product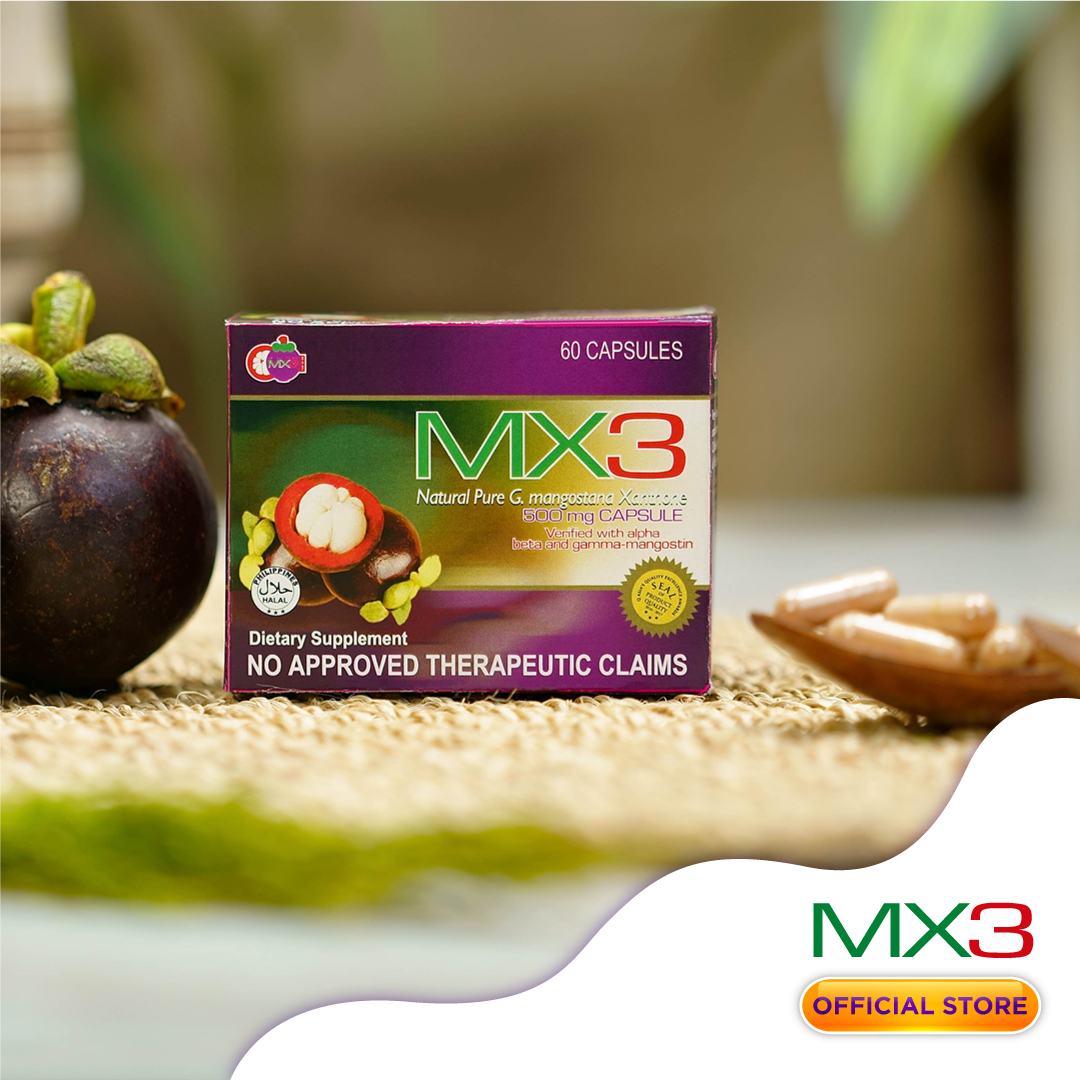 MX3 Natural Pure G. Mangostana Capsule or commonly known as MX3 Capsule is a natural food supplement that is rich in xanthone- a natural chemical extracted from the pericarp of mangosteen fruit (Garcinia Mangostana L.) and has powerful antioxidant and anti-inflammatory properties that help boost the immune system.

Xanthones have three derivatives, which are alpha, beta, and gamma mangostin, which are all found in MX3.
Alpha-Mangostin - Exhibits antioxidant, antimicrobial, and antitumor activities.
Beta-Mangostin - improves mood and relieves stress
Gamma-Mangostin - Has the most powerful antioxidant property. It can reduce swelling and help relieve pain. It can also help prevent the obstruction and the clogging of arteries that lead to heart diseases and can benefit in lowering LDL (bad cholesterol).

Visit our official store.