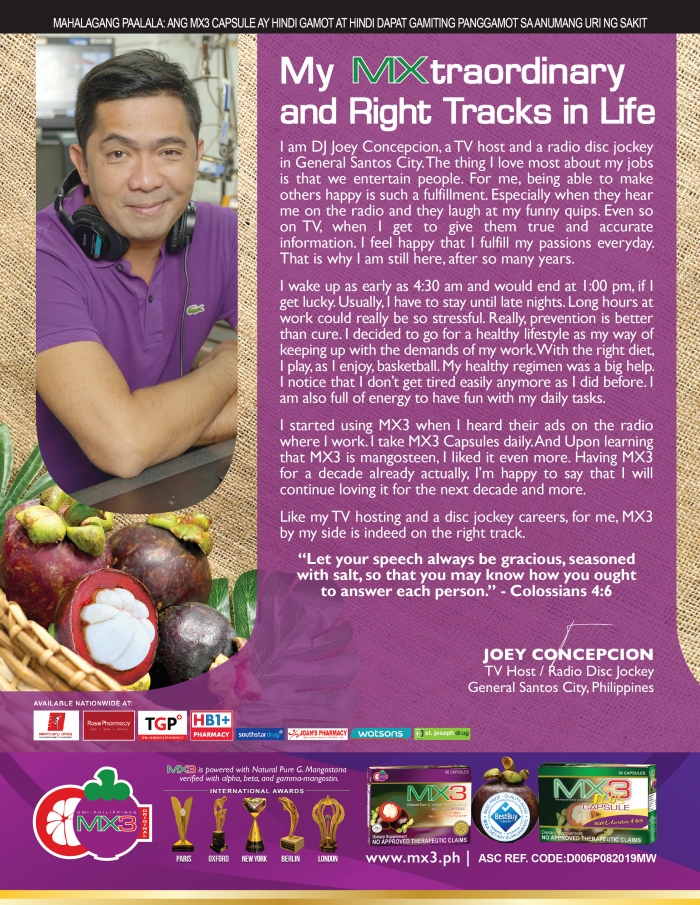 I am DJ Joey Concepcion, a TV host, and a radio disc jockey in General Santos City. The thing I love most about my job is that we entertain people. For me, being able to make others happy is such a fulfillment. Especially when they hear me on the radio and they laugh at my funny quips. Even so on TV, when I get to give them true and accurate information. I feel happy that I fulfill my passions everyday. That is why I am still here, after so many years.

I wake up as early as 4:30 am and would end at 1:00 pm, if I get lucky. Usually, I have to stay until late nights. Long hours at work could really be so stressful. Really, prevention is better than cure. I decided to go for a healthy lifestyle as my way of keeping up with the demands of my work. With the right diet, I play, as I enjoy, basketball. My healthy regimen was a big help. I notice that I don't get tired easily anymore as I did before. I am also full of energy to have fun with my daily tasks.

I started using MX3 when I heard their ads on the radio where I work. I take MX3 Capsules daily. And upon learning that MX3 is mangosteen, I liked it even more. Having MX3 for a decade already actually, I'm happy to say that I will continue loving it for the next decade and more.

Like my TV hosting and a disc jockey careers, for me, MX3 by my side is indeed on the right track.
JOEY CONCEPCION
TV Host / Radio Disc Jockey
General Santos City, Philippines