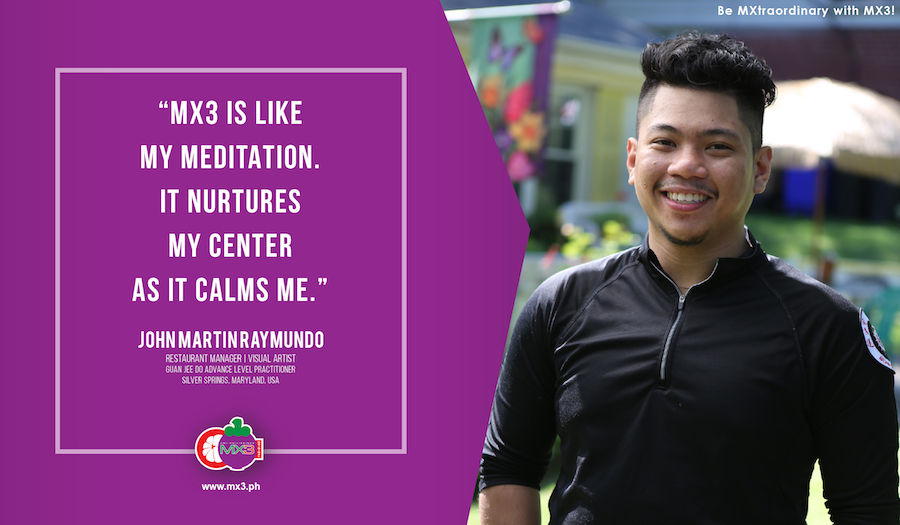 With a lot of dreams, prayers and fortitude, 15 years here in the Maryland, USA happened so fast.
At 27 years old, I am a general manager of a noodles restaurant in Glen Burnie and an advance level practitioner of this emerging martial arts called Guan Jee Do. And while I am seriously committed to these two different fields, I continue to hone my craft in visual arts, which has been my childhood passion and helped in more ways than one in financing my education.
So imagine the kind of crazy schedule and challenges that I undergo on a daily basis. While I love the productivity of multitasking, the physical and mental demands of my day are sure fire stressful as they are unavoidable. But with the help of MX3, along with proper diet and my innate love for sports like soccer, running and climbing, I am able to endure and willingly allow the wide range of actions and colors that fill my life canvass with so much fun and hope.
MX3 is like my meditation. It nurtures my center as it calms me.
I am MXtraordinary.
John Martin Raymundo
Restaurant Manager | Visual Artist |
Guan Jee Do Advance Level Practitioner
Silver Springs, Maryland, USA