ANG PROBINSIYANO sa GERMANY with MX3!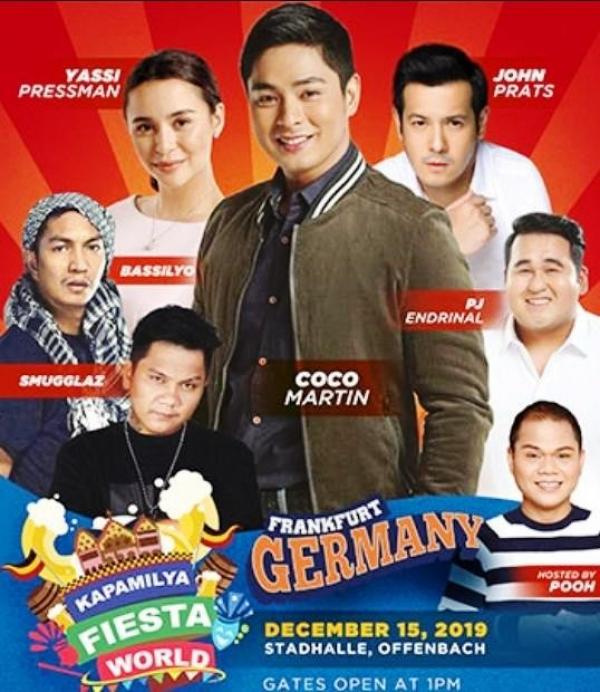 Guten Tag Frankfurt! – is our general greetings for everyone we meet at the grand Stadhalle stadium. Like what we've always heard about Germany, everything is organized, efficient, and technologically advanced.
We started, as to the security's prodding on time, and ended up the well - attended event, on time. It was cold outside, with temperatures falling to 2 °C, but it was warm inside with the ever fashionably dressed Pinoys in leather jackets and boots welcoming us to their city.
We were assisted by the ABS CBN TFC execs, Sirs Louis and Albert, who traveled all the way from Italy and the quintessential group of Ms. Mitch, Pia, and April so we will be ready without a hitch. We were gladly surprised by the visit of Tita Kelly, Denmark and Direk Jerome of ANC who offered to shoot our pre-concert games.
Although there were only the two of us, Mr. Hanz Concepcion representing Regional and yours truly, representing DMI, due to the hectic Christmas preparations in the Philippines, we managed to pull it off, as I may say, quite successfully. We had the audience entertained and informed about MX3, both on and off the stage.
Like in any of our international trips, we started our day with early worship, singing of beloved Christian songs and then reading of bible verses from the book of Luke. We analyzed and shared personal insights and how the verse translated into our lives. We end up with a fervent prayer for the safety of the people of Davao after hearing of the recent magnitude of a 6.9 earthquake.
THE PRE-CONCERT GAME
With John Pratts directing the whole show, we were allotted enough time to hold our popular game, "Sakit mo, I-arte mo". Perennial host Pooh allowed yours truly to talk about the Mission and Vision of DMI, explain the wonderful benefits of MX3 and mention the International awards given it, then expound how the product helps the health conditions acted out by the game participants.
We took the opportunity to share the mission of DMI in bringing God's words of love and purpose. Every one of those who went up the stage happily received a gift certificate of MX3 products to be claimed by their loved ones back home and our very own T-shirt they proudly wore. As usual, the game was hilarious and the audience loved it. They clapped heartily and we declared the winners.
THE MAIN CONCERT
Pooh brought the house down with funny antics and a song number. They followed this with Shugglaz and Bassilyo rapping energetically while PJ Endrinal serenaded the audience. Enchong Dee danced, and the ladies were swooning. Yassi Pressman sang and the men fell into a trance. But of course, the crowd went wild when finally Coco Martin, the leading man, and brain of the hit TV series, "Ang Probinsiyano" came out and did his numbers. We arrived in with preparations at 1 pm and went out at around 7 pm exhausted but exuberant. We bowed our heads to offer a grateful prayer that evening, as we dined with the celebrities, for a successful event.
THE POST CONCERT
Once again, I am honored to be part of the group as an MX3 health consultant and representative, headed by its spiritual and kind Managing Director, Ms. Gina of DMI Phils. This has been an excellent vehicle for us to introduce MX3 to wherever there are Filipinos abroad.
Many people have already been taking the different MX3 variants like the new, improved formula of MX3 Plus with co Q10 and L-Carnitine for healthy metabolism, MX3 plain 500mgs capsule for improving the immune system, MX3 coffeemix, a blend that is non-acidic with no sugar added and tastes excellent, and MX3 Tea which is so economical that one teabag can be used for one pitcher of water to be enjoyed by the whole family.
THE MEANING OF MX3
Many have copied us, but there can only be one original which has undergone extensive scientific research. One that is FDA (BFAD) approved and endorsed by physicians. MX3 has received numerous awards for quality from Geneva to London. I have always been asked what MX3 stands for and here they are:
M stands for mangosteen (Garcinia mangostana), a unique fruit abundant in Southern Philippines.
X stands for Xanthone, the active ingredient found in the fruit's pericarp (outer covering), which has wonderful health benefits.
The number 3 stands for Alpha, Beta, and Gamma nutrients, the components in the fruit which makes it one of the best Immune System booster and anti-oxidant.
People recognized MX3 from the media exposures and love our products.
DMI has always been generous in sharing MX3 products to lucky participants – all in the spirit of giving back to the people blessings from the Lord. It was both enjoyable and heart fulfilling for me – to share the gift of knowledge about natural products to those seeking wellness. If you want to know more, visit their website at www.mx3.ph or call/text 0918-8888-693. Thank you, DMI.
As they say, Ich Liebe Dich, Germany! We love you and the thousands of Filipinos who endured and stayed there. May God bless you more!