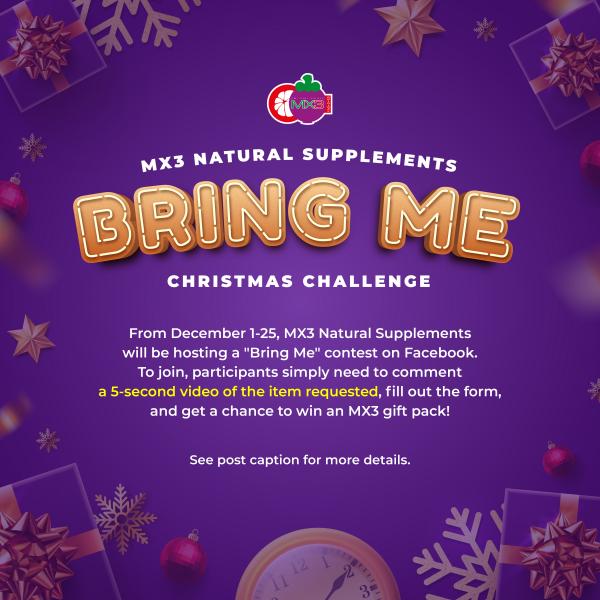 Date:
December 1 - 25, 2022
Participants:
The Bring Me Christmas Challenge is open to all followers of the official MX3 Facebook page: MX3 Natural Supplements.
Mechanics:
The MX3 Natural Supplements Facebook Page will be posting Bring Me items every 5 PM from

December 1 - 25, 2022. Hence, a total of 25 series of Bring Me items are to be uploaded.

Submit the Bring Me item/s in a 5-second video and upload it in the comment section.

Fill out the form to officially submit your entry and attach the following to the given Jotform link:
- video entry
- screenshot of the shared post to your personal profile (set to public)
- screenshots of social media follows to the following: Facebook page, Facebook group, Instagram, Shopee and Lazada
5. The Jotform will be open for 20 hours only, to accommodate qualified participants.
6. Only the successful submissions to the Jotform provided will be eligible for an MX3 Gift Pack.

Rewards:
- 1st to comment a 5-second video of the correct item/s will automatically receive an MX3 Gift Pack which will serve as a prize for the top winner.
- Another 5 random commenters with the correct item/s will be raffled out for another MX3 Gift Pack which will serve as a consolation prize.
Entry Deadline:
- Jotform will be unavailable at exactly 1 PM the next day.
- Multiple submissions will invalidate all of the participant's entries for the segment.
Announcement of Winners:
- 2nd Week of January 2023
- Expect your MX3 gift packs to be shipped within 2 to 4 weeks from the announcement of winners.