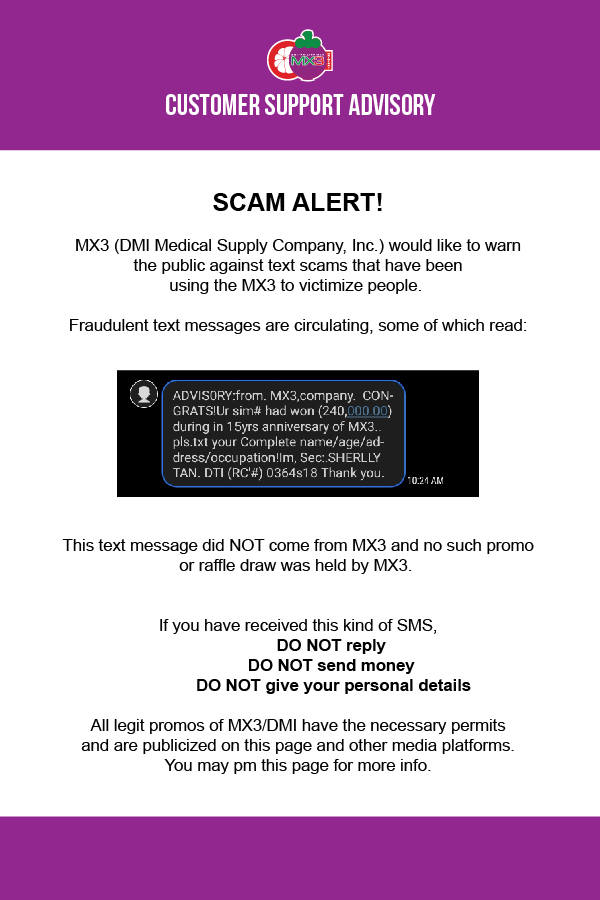 MX3 (DMI Medical Supply Company, Inc.) would like to warn the public against text scams that have been using the MX3 to victimize people.
Fraudulent text messages are circulating, some of which read:
ADVIS0RY:from. MX3,company.
CONGRATS
!Ur sim# had won (240,000.00) during in 15yrs anniversary of MX3.. pls.txt your Complete name/age/address/occupation!Im, Sec:.SHERLLY TAN. DTI (RC'#) 0364s18 Thank you.
This text message did NOT come from MX3 and no such promo or raffle draw was held by MX3.
If you have received this kind of SMS,
DO NOT give your personal details
All legit promos of MX3/DMI have the necessary permits and are publicized on this page and other media platforms. You may send your inquiry through our page messenger site at www.mx3.ph.