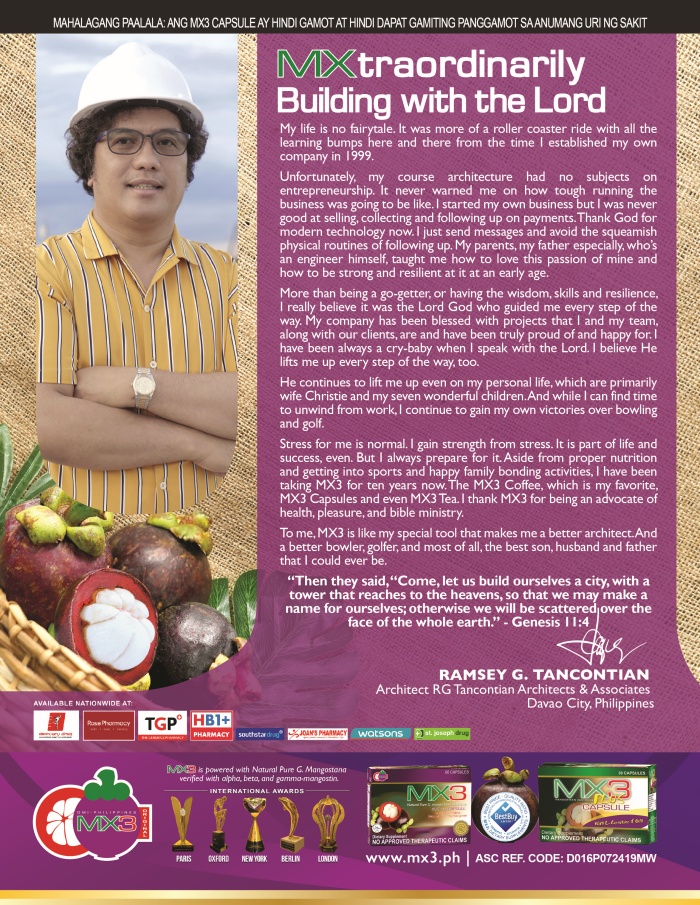 My life is no fairytale. It was more of a roller coaster ride with all the learning bumps here and there from the time I established my own company in 1999.

Unfortunately, my course architecture had no subjects on entrepreneurship. It never warned me how tough running the business was going to be like. I started my own business but I was never good at selling, collecting and following up on payments. Thank God for modern technology now. I just send messages and avoid the squeamish physical routines of following up. My parents, my father especially, who's an engineer himself, taught me how to love this passion of mine and how to be strong and resilient at it at an early age.

More than being a go-getter, or having the wisdom, skills, and resilience, I really believe it was the Lord God who guided me every step of the way. My company has been blessed with projects that I and my team, along with our clients, are and have been truly proud of and happy for. I have been always a cry-baby when I speak with the Lord. I believe He lifts me up every step of the way, too.

He continues to lift me up even on my personal life, which is primarily wife Christie and my seven wonderful children. And while I can find time to unwind from work, I continue to gain my own victories over bowling and golf.

Stress for me is normal. I gain strength from stress. It is part of life and success, even. But I always prepare for it. Aside from proper nutrition and getting into sports and happy family bonding activities, I have been taking MX3 for ten years now. The MX3 Coffee which is my favorite, MX3 Capsules and even MX3 Tea. I thank MX3 for hitting three birds in one stone – promoting health, pleasure, and bible ministry.

To me, MX3 is like my special tool that makes me a better architect. And a better bowler, golfer, and most of all, the best son, husband and father that I could ever be.

RAMSEY G. TANCONTIAN
Architect RG Tancontian Architects & Associates
Davao City, Philippines
"Then they said, "Come, let us build ourselves a city, with a tower that reaches to the heavens so that we may make a name for ourselves; otherwise we will be scattered over the face of the whole earth." - Genesis 11:4