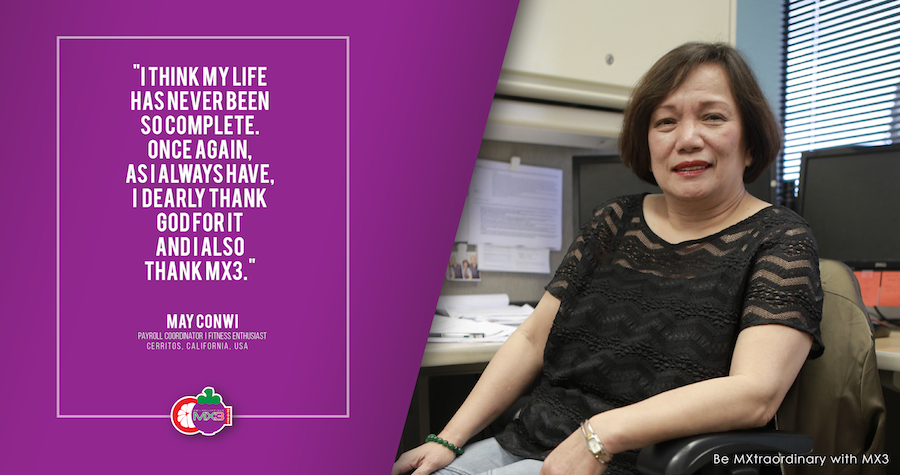 I have always been very thankful to and humbled by God for blessing me with a life that only gets better.
Years ago in the Philippines, I was thankful that I graduated from my college education. Then, my sister in Virginia, USA gave me a graduation gift of going to the US with my mom for a vacation. There, I met this man who convinced me not to go back to the Philippines anymore. Along with it was a marriage proposal. He eventually became my husband and the rest was good history.
After 37 years, I still work in a company that's treating me well as a payroll coordinator. Like any good work, stress and hard work come hand-in-hand with all the clockwork number crunches of our department.
I realize that I am not getting any younger as I hear and see my friends suffer from different ailments. Even my husband now has gout. Upon the recommendation of a good friend, my husband and I gave MX3 a try! I also indulged in sports and exercises. I run around Liberty Park here in Cerritos City and sweat it out in zumba sessions. My husband and I enjoy friendly matches of bowling.
And thankfully with the proper diet, we feel energized with lesser body pains.
I can truly say that I can never ask for more. Once again, as I always have, I dearly thank God for it.
And of course, I thank MX3.
MAY CONWI
Payroll Coordinator | Fitness Enthusiast
Cerritos, California, USA